Bacharach
This is Bacharach, not Las Vegas!
Bacharach! What a delightful surprise. The bus arrived at Bacharach in the afternoon and parked right next to the Rhine River. With the Rhine on one side and the partially walled city on the other side we made our way through the tunnel and experienced our first of many luggage parades to the hotel.  Our new home for two lovely nights was the modern, comfortable, and clean Hotel am Markt and our hosts were the Dettmar family.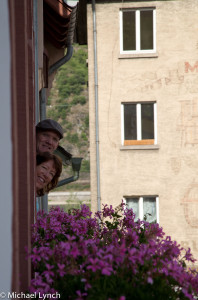 Our rooms were a short walk from the Lobby and our windows opened up to a small street. Phil and Sharon were next door and before long we were talking to each other from the window as the golden sunlight was kissing the buildings around us. Very modern rooms and very clean.  We went for a quick walk around the town and met the gang back at the hotel for a fantastic dinner buffet in the nice dining room.  After dinner we were given our itenerary for tomorrow which was a walking tour of Bacharach followed by bus trip to St. Goar, the Rhinesfeld Castle and a Rhine River Cruise then dinner on our own. We chose to go for a short walk after dinner and then made it back to the hotel.  Jet lag was subsiding as our body clocks were nearly on Europe Time.
Dimitri advised us that Her Jung (a famous local guide referenced in many reviews) was not available and that our guide would be Thomas, a local politician.  I admit initially I was disappointed but afterwards I was educated and delighted that Thomas was our guide.   He offered such an interesting perspective, that of a very active politician who cared greatly about his city, the region and Germany.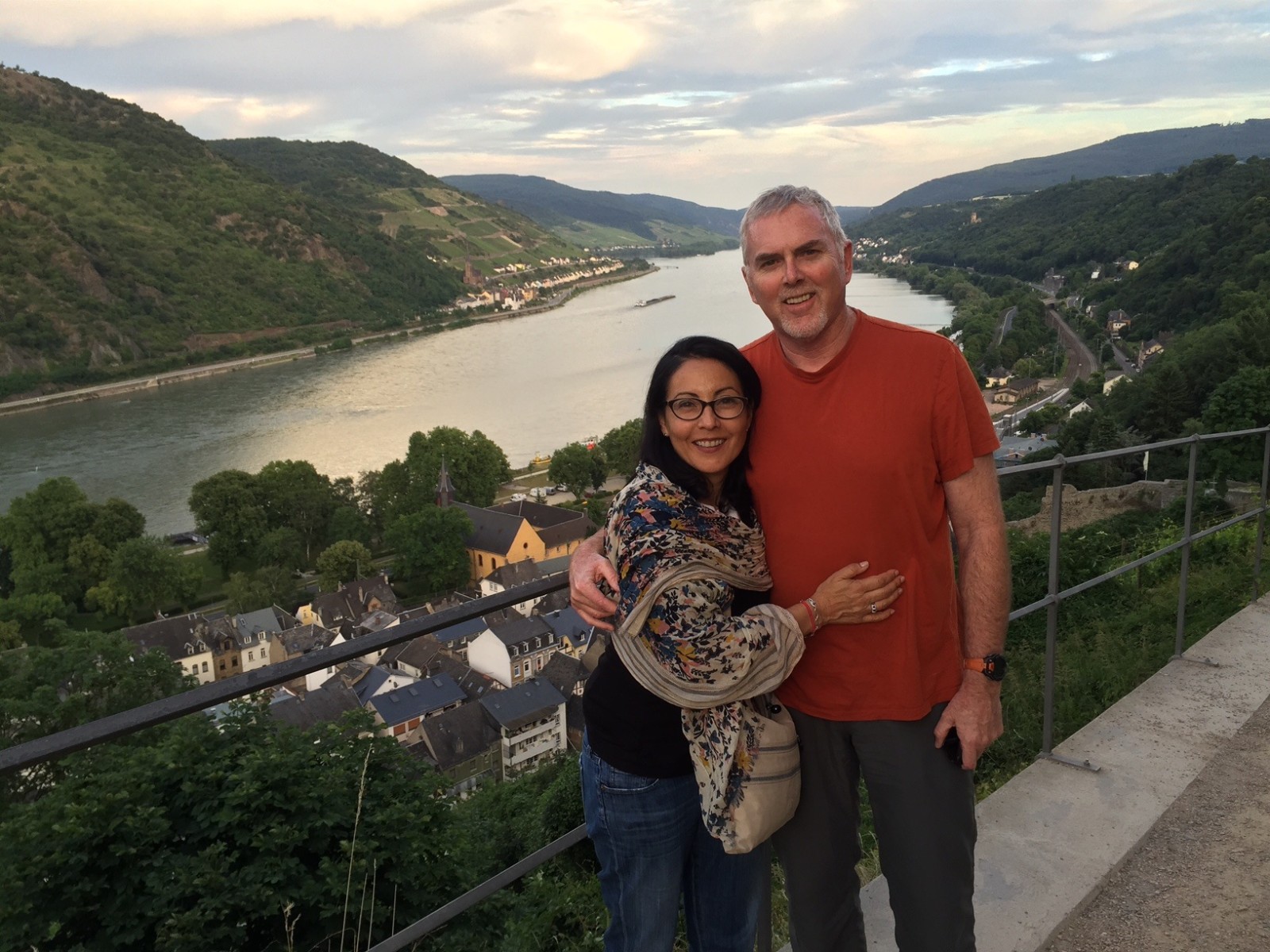 We began our tour with a walk towards the local vineyards and Thomas pointed out interesting facts about the landscape, architecture and history of Bacharach.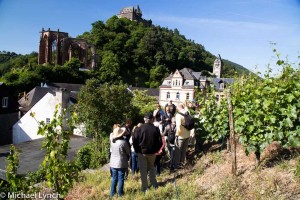 From our vantage point you could see vineyards, the ruins of an old Catholic Church and a castle on the hill, now a hostel for families.  All this no more than few blocks from our hotel.  One of the great things about the tour is that you are embedded in a city for a day or so and exposed to so much.  Thomas led us all around the town and shared his unique perspective.  He pointed out small plaques on the ground that displayed the names of the people who once lived in the houses but did not return from the concentration camps.  He shared that it was quite controversial and some people did not allow the plaques to be installed in fear of backlash.  There is still a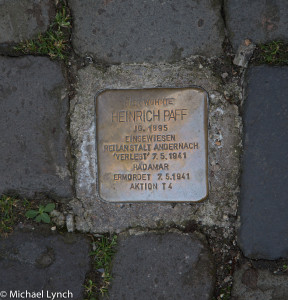 part of the society that wants to continue to hide from the darkness prevalent in Germany during World War II.  Thomas' family found a sword in thier home that belonged to a former resident he believes may have been taken to a concentration camp.  He has made efforts to find the righful owners and is willing to hand it over to anyone who can prove they are descendants.
Thanks to Thomas we were able to learn about Bacharach from its Medieval origins, through World War II, and all the way to the modern political environment of today.  A final highlight was when Thomas took out this old key and opened the door that Rick Steve's used to represent Europe through the Back Door which took us into a beautiful courtyard.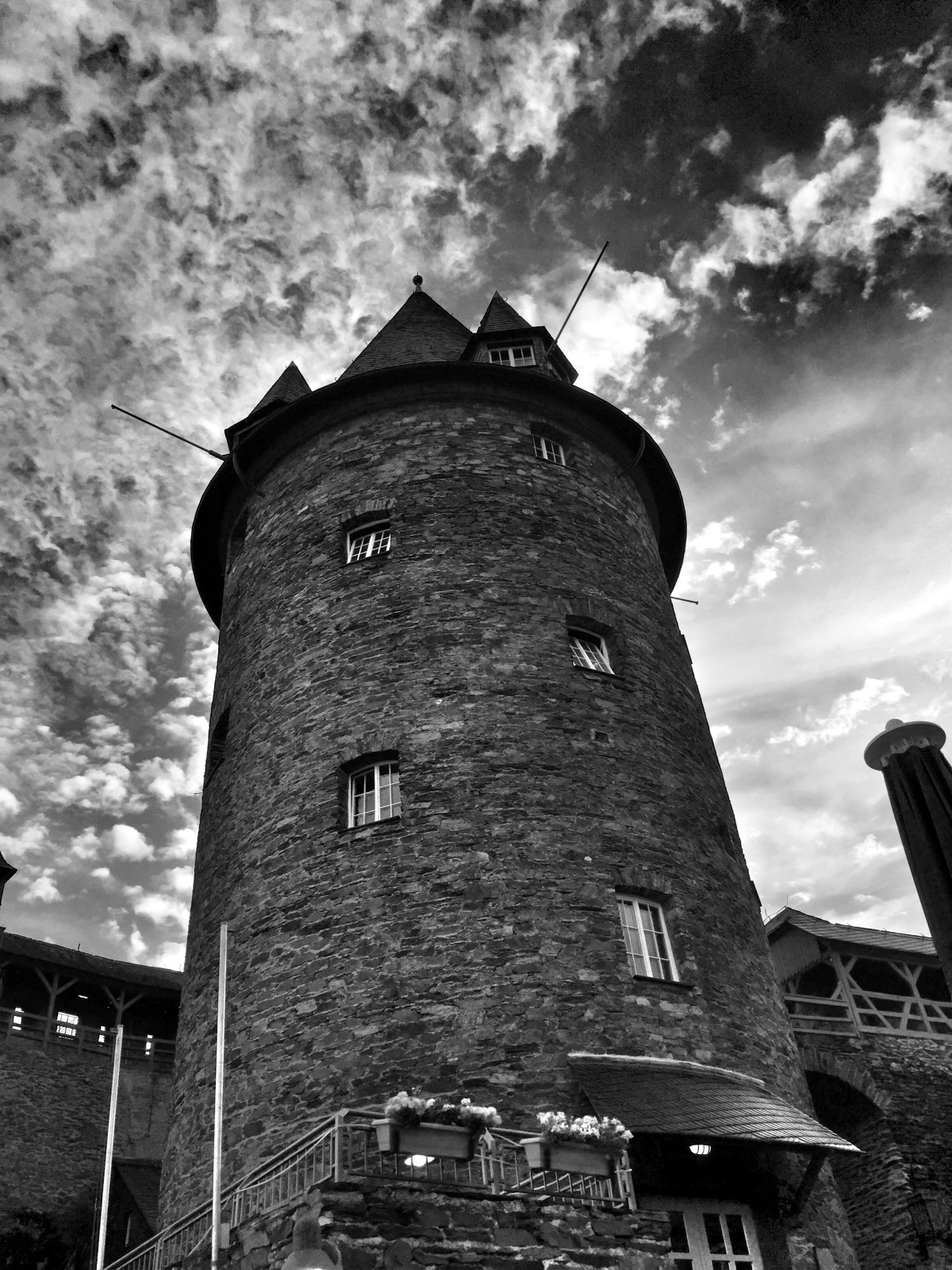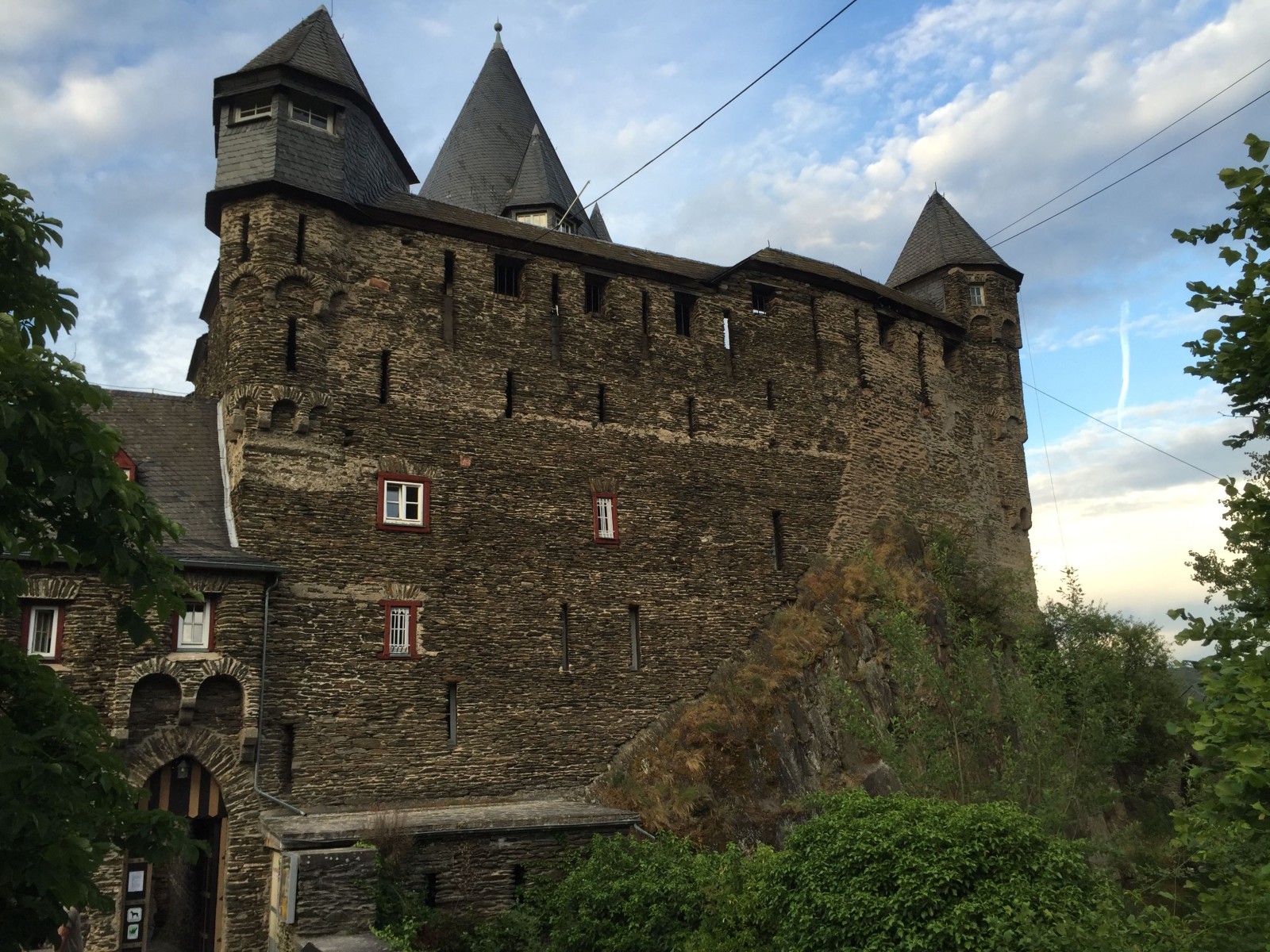 The next morning, we headed out to the Magic Bus for a short ride to St. Goar where we learned how they make beer steins and after a lunch of very reasonably priced sandwiches we hiked up to the Rheinsfeld Castle for our tour.  The sun was out and it was getting warmer as we hiked up from St. Goar to the hilltop castle.  It was quite an impressive sight with massive walls right out of central casting for a castle.  I half expected to be taunted by the french guards from Monty Python and the Holy Grail as we walked along the wall to the entrance. We were greeted by our very enthusiastic, energetic guide, with an ear-to-ear smile that never left her face through the whole tour.  We learned about the origins of the terms fox hole and loop hole both defensive techniques to ward off would-be attackers.  We climbed up many stairs, toured the dungeon, and caves beneath the castle. It was fantastic!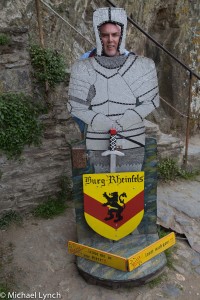 We headed back to St. Goar and waited for the boat that would take us back to Bacharach.  The boat ride includes some of the most scenic parts of the Rhine River.  Along the way one of the Viking Cruise ships Phil and I had talked about taking was headed up river as we were heading down.  At that moment I think both Phil and I realized that we made a very good decision to take this tour rather than the cruise.  It was such a serene moment of realization that I would have gone stir crazy on the boat and we would not be embedded in the towns we were to stay at.  We'll wait another 20 years before we take that tour.  There's just too much to see and experience by being in a central location in the European towns we stayed in.
We arrived back in Bacharach in the early afternoon and after dropping off our gear we walked around town and sat at an outdoor cafe just up the street from our hotel.  It was just before dinner time and we stopped to have a drink.  Phil asked the waitress what kind of dark beers they had on tap and she stated, "This is Bacharach, not Las Vegas!. We only have one beer on tap here."  The surlyness only escalated as she realized we would not be staying for dinner.  She said, "I don't know why we don't have more people for dinner when we have the best chef in town."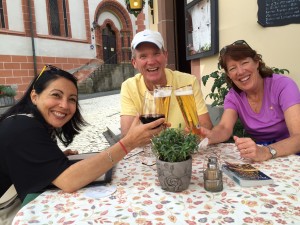 As we walked away Phil and I both said its probably because of your attitude. Of course we said that to each other and not to the frauline who proabably could have kicked both of our asses.
We ended up in a nice restaurant and before long we were the loudest people in there.  The food was good, the company better.  After dinner we walked the town a bit in search of spaghetti ice cream, a lovely concotion of ice cream pushed through a ricer to look like spaghetti and topped with a sweet raspberry sauce.  It was quite good to tell you the truth.