Reutte
It was a bit quiet on the bus as everyone processed what they had just seen at Dachau. The visit impacted each person in a unique way. Dimitri pointed out some of the sites where the 1976 Olympics were held as we drove down the Autobahn. We stopped for a break at a roadside McDonalds that had floor to ceiling windows overlooking the German countryside. It was quite an interesting view and the restaurant itself did not fit the paradigm of USA McDonalds it felt a bit upscale. All the roadside restaurants and fueling areas were very clean and interesting. We would soon be looking forward to our stops as we continued our journey.
Wieskirche
We stopped in at Wieskirche a Rococo style church which was very impressive. In comparison to some of the other churches we had visited it was like technicolor versus black and white films.  Very bright, colorful and ornate.  The church is the home of the scuplture called Scourged Christ depicting Christ in chains. Tears were once seen falling from the eyes of the statue and as a result the church became a pilgirimage site.  We ate lunch at a nearby beer garden which served a Bavarian pork dish and beer.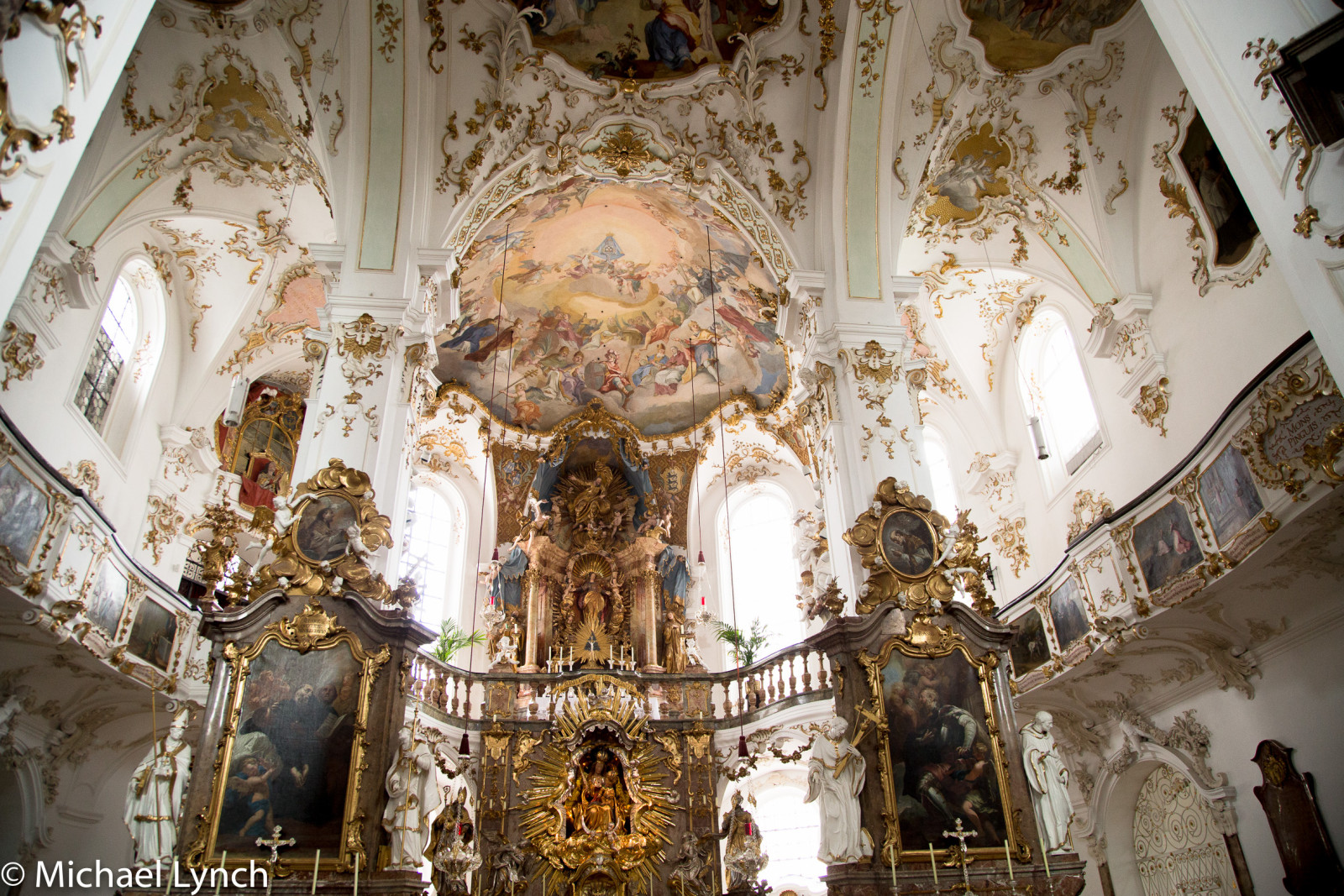 We arrived at Hotel Maximilian, a spotless hotel with great staff, just in time for dinner.  Our host Gaby was wonderful and Dimitri prepped us that she may have some questions for us so Gaby was impressed when we were able to answer some of her questions. We would rise early for a short bus ride to the trail head for a hike from Austiria back to Germany where we would tour Hohenschwangau and Neuschwanstein Castles,
Tourists in the Mist
We started off in the Austrian mist and proceeded along the trail to an unstaffed German border crossing. The rain began to fall once we crossed the border but it was still a great hike.  Figuring we may never get back here we wanted to take it all in. The rain was heavy as we walked along the lake which on a clear day provides a spectacular view of both castles.
Hohenschwangau and Neuschwanstein Castles
Some of the group opted to meet us at Hohenschwangau Castle for our scheduled tour.  The tour was very interesting and the castle was beautiful.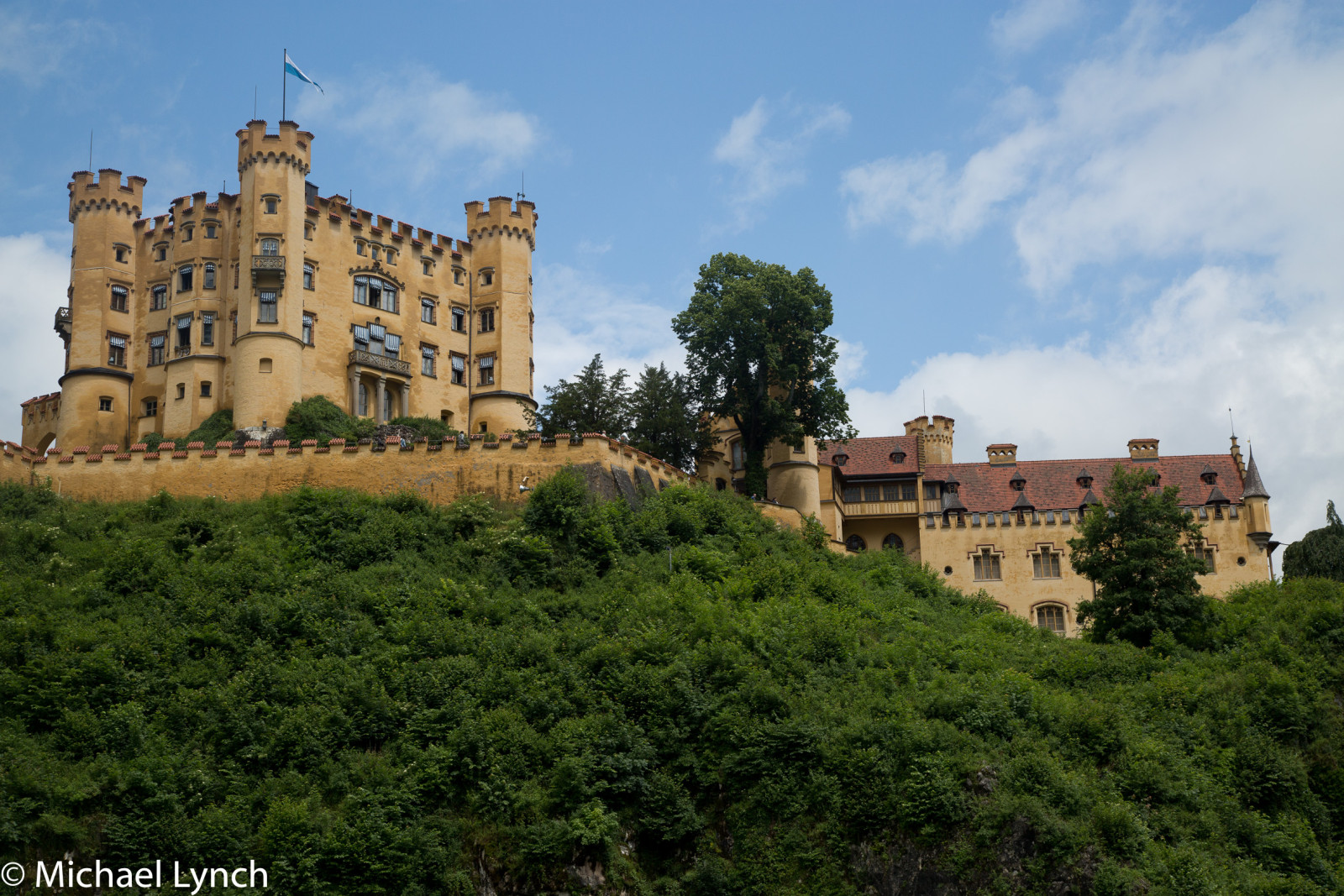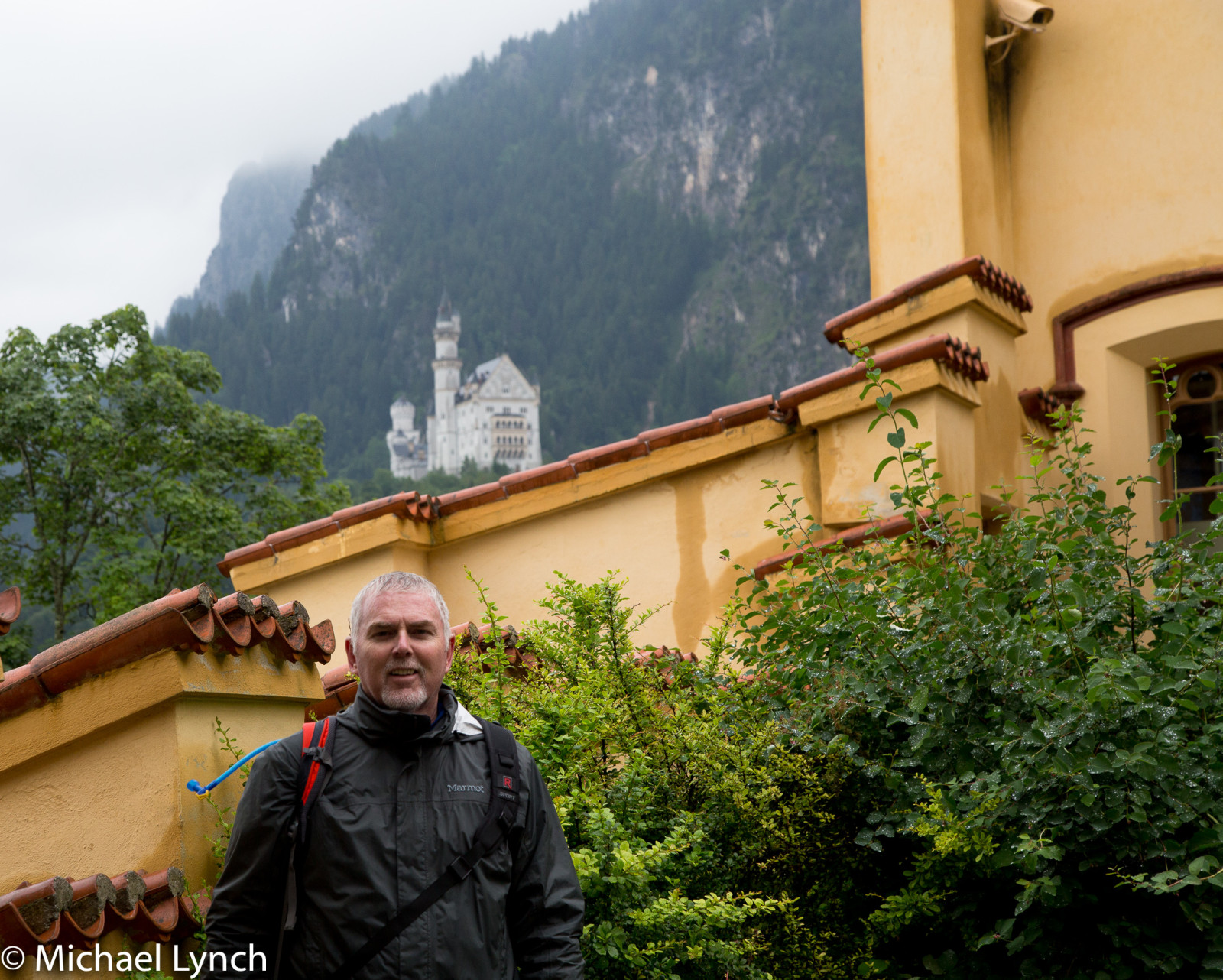 After an impromptu sandwich lunch on the bus Dimitri told us about the tragic life of Mad King Ludwig II who had the Neuschwanstein Castle built.  But alas he was found dead in the castle moat less than 100 days after the castle was fiished.  Nonetheless, this is the castle that inspired the design of Cinderellla's Castle at Disneyland. It is a spectacular castle right out of a storybook. As a photographer, I had hoped for clear skies but alas the weather did not cooperate.  But again, as Dimitri taught us, we must go with the flow. Even when that flow is rain.  Regardless it was a spectacular tour and we hiked over to the crowded bridge which offers a fantastic view of the castle.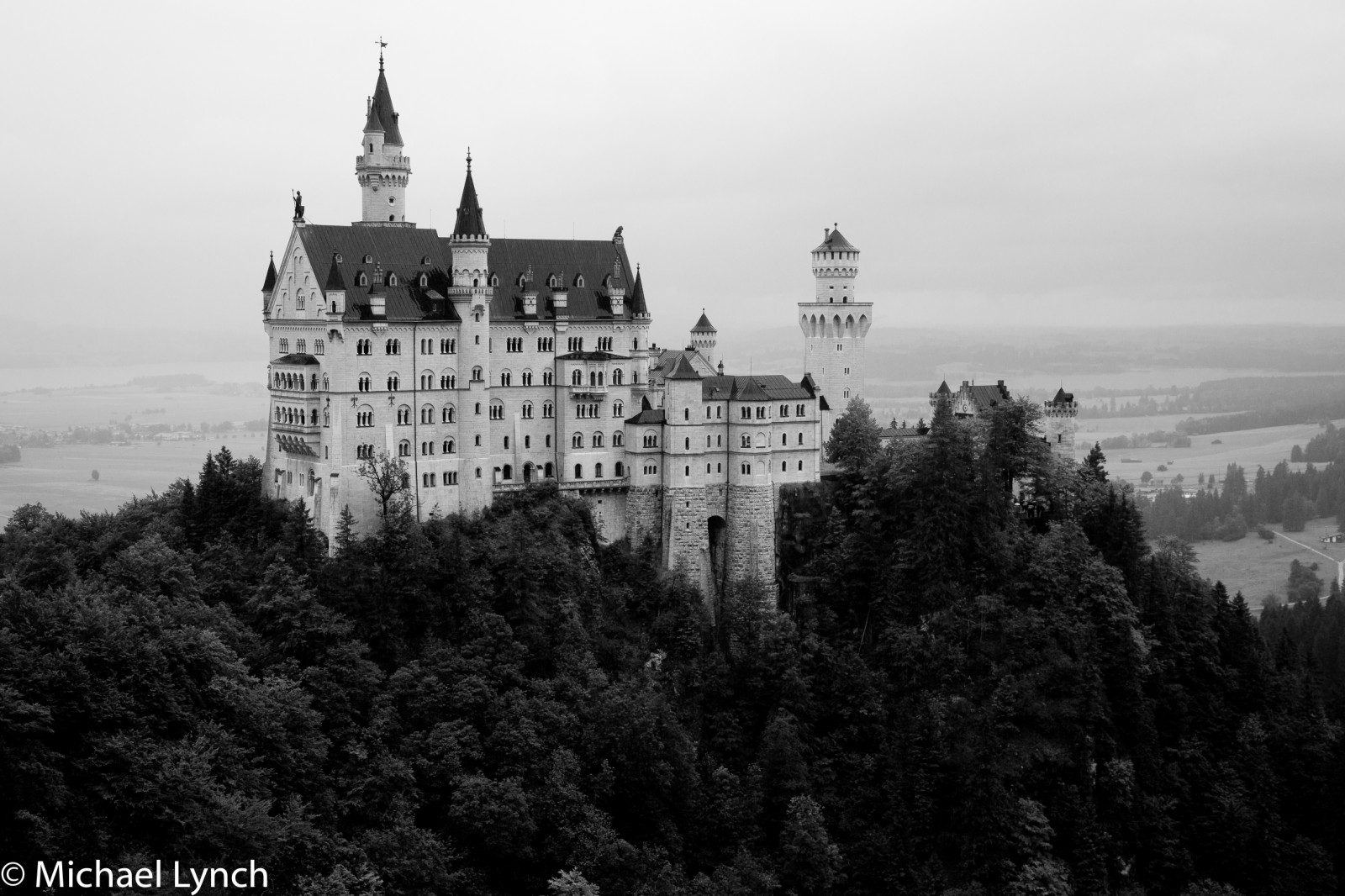 Due to the weather we were unable to do the scheduled Luge actifvity so we went to another Rococo style church and then returned to Hotel Maximilian and Phil and I walked across the street to check out the wild life.  We had a lovely dinner and went to bed with dreams of gondolas and canals in our heads.