Beaunne
The Burgundy Valley
Day 18 began with a nice breakfast and then we loaded up the bus and started our journey to France.  Switzerland was great and the majestic mountains and the plunging valley walls will be a lasting memory.  I boarded the bus a little melancholy as the end of the tour was nearing and I wanted to hold on to all the wonder we experienced along the way.  The planets truly aligned throughout the tour and it was as close to perfection as possible.  We'd be zooming down the mountain roads of the Alps and arrive at Beaunne in the afternoon.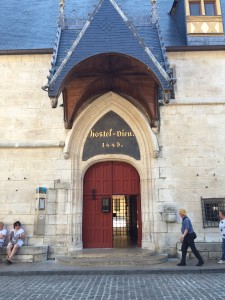 Dimitiri provided some background about the area and encouraged everyone to try the escargot.  We arrived at Hotel Athanor Beaunne Center as France too was experiencing an early summer heatwave.  Alas, there was no air conditioning. I harkened back to the first day of the tour and just said to myself, go with the flow.
We would experience small town life in France and visit Hotel Dieu a hospice for the poor.  The Room of the Poor contained numerous beds with red blankets and which popped due to the very white sheets.  The hospital cared for the rich and poor alike but in separate rooms. After the tour of Hotel Dieu we made our way to a wine cellar located beneath a local hotel.  As we went down to the cellar the cool air was very refreshing.  Our host provided us with some background information of the local wines and then provided the group with samples of several types of wines.  Our host was delightfully cheerful and her positive energy filled the cellar.
We went to dinner and Phil and Veronica tried the Escargot. Mike and Sharon, not so much.  I am a very picky eater and chose not to eat the garlic and butter slathered mollusks.  I was afraid that once I swallowed the escargot it might not go with the flow.  After dinner we wandered around for bit.  I heard there would be a light show on several of the buildings in the town.  So after dropping Phil and Sharon off at the hotel Veronica and i went for another walk to view the light show.  We then went to bed with visions of Paris in our heads.   I proposed to Veronica in Paris in December 2007.  We were looking forward to returning to the scene of the crime.