Dachau
In Amsterdam we learned about the benefits of tolerance and in Dachau we saw first hand what lack of tolerance can result in.  We learned from our guide that the concentration camps were populated by many portions of the population that were considered outsiders by the Nazi movement.  In addition to Jewish people, homosexuals, anti-socials, priests, those with mental challenges, and just about anyone who did not fall in line with the Nazis were sent to the concentration camps.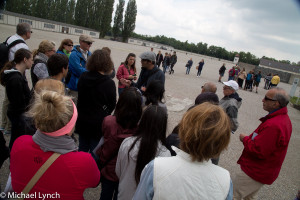 We also learned that such intolerance is alive today. The front gate which carried a statement of propaganda to those passing through it that "Work will set you free" was recently stolen allegedly by Nazi sympathizers.  From the entry gate to the barracks, the guard shacks, and the crematorium you could sense the despair of those who passed through the gates never to depart.  The site was very impactful and the history was palpable.
Among the most moving exhibits were the monument displaying "Never Again" in five languages and the statue near the crematorium which is inscribed "Den Toten Zuhr Ehr Den Lebenden Zur Manhung" which roughly translated means to remember the dead and warn the living (see images below). Although many of us were reluctant to visit Dachau and it was very difficult and emotional to be at Dachau I am grateful to have had the experience of visiting the site and to learn the lessons it has to offer.