Venezia
On the Road Again
We departed Hotel Maximillian with a 7 hour drive ahead of us.  I believe we stopped at
our first Autogrill along the way. Autogrill is like a US truckstop on steroids without all the grease.  They have fresh food, a small market, wine and liquor and local souvenirs and are super clean.  Some of the Autogrills took up the entire overpass. You could get lost in the Autogrill, and if you did you might end up on the wrong side of the highway.  The best part of the Autogrill was the espresso bar.  Phil and I soon made a habit of having a cappuccino at every Autogrill stop.  Espresso, it wakes you up and it calms you down. It became such a habit that Veronica and I found ourselves in the espresso maker ailse at Williams-Sonoma as soon as we returned home.  Each time I have a cup I am reminded of this fantastic vacation.
As we headed south the weather changed from misty to sunny and warm.   We stopped in Egna, a small town just inside Italy near the Austrian border for lunch.  And what a treat it was.  The staff was very friendly, funny, and welcoming.  The Pizzeria "Lauben" served us several different types of pizza.  The waitress pointed out differnt types of peppers, "This is a spicy, and this is a dangerous."  We quickly ate all the pizza that was set in front of us. When gazing at our empty plates with a big smile the waitress said, "If you don'ta like a the pizza you don'ta have to a eat it."  The pizza was fantastic and the service was out of this world.  What a way to start our visit to Italy.
Full Disclosure
I grew up in Venice. My parents were Irish immigrants and our first apartment was on the Grand Canal in Venice, California. Perhaps it is better said that I failed to grow up in Venice.  Nonetheless, I have always been fascinated with Venice, Italy. Venice, you either love it or hate it. I love it!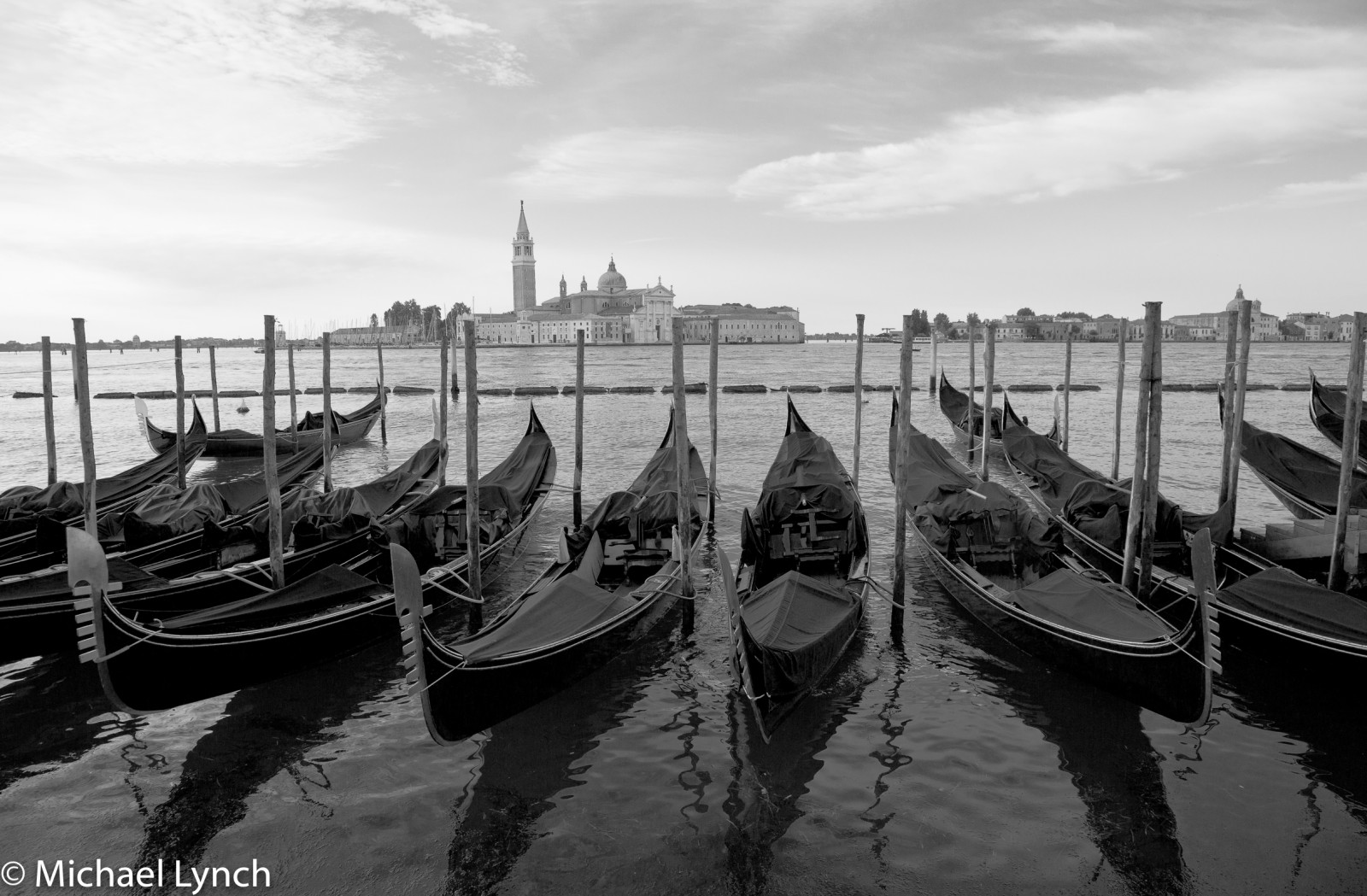 We arrived around 5 PM and took a boat to San Marcos and checked in to Hotel Piave located a few blocks behind Piazza San Marcos.  It was a great hotel with a fantastic breakfast served each morning and the coffee was simply awesome.  I would stay here again in a heartbeat.  Dimitri provided a quick orientation and told us to throw away our maps because they are useless.  You just need to find your bearings in Venice by getting lost.
We met for dinner which was followed by a gondola serenade set up by our fabulous guide Dimitri. We would have three gondolas for the group.  Since it was Phil and Sharon's anniversary and would be my birthday the next day Dimitri put us on the boat with the singers.  I do not have words for how great the experience was.  You really had to be there to hear the voices and music bounce off the narrow canal walls on a perfect summer evening.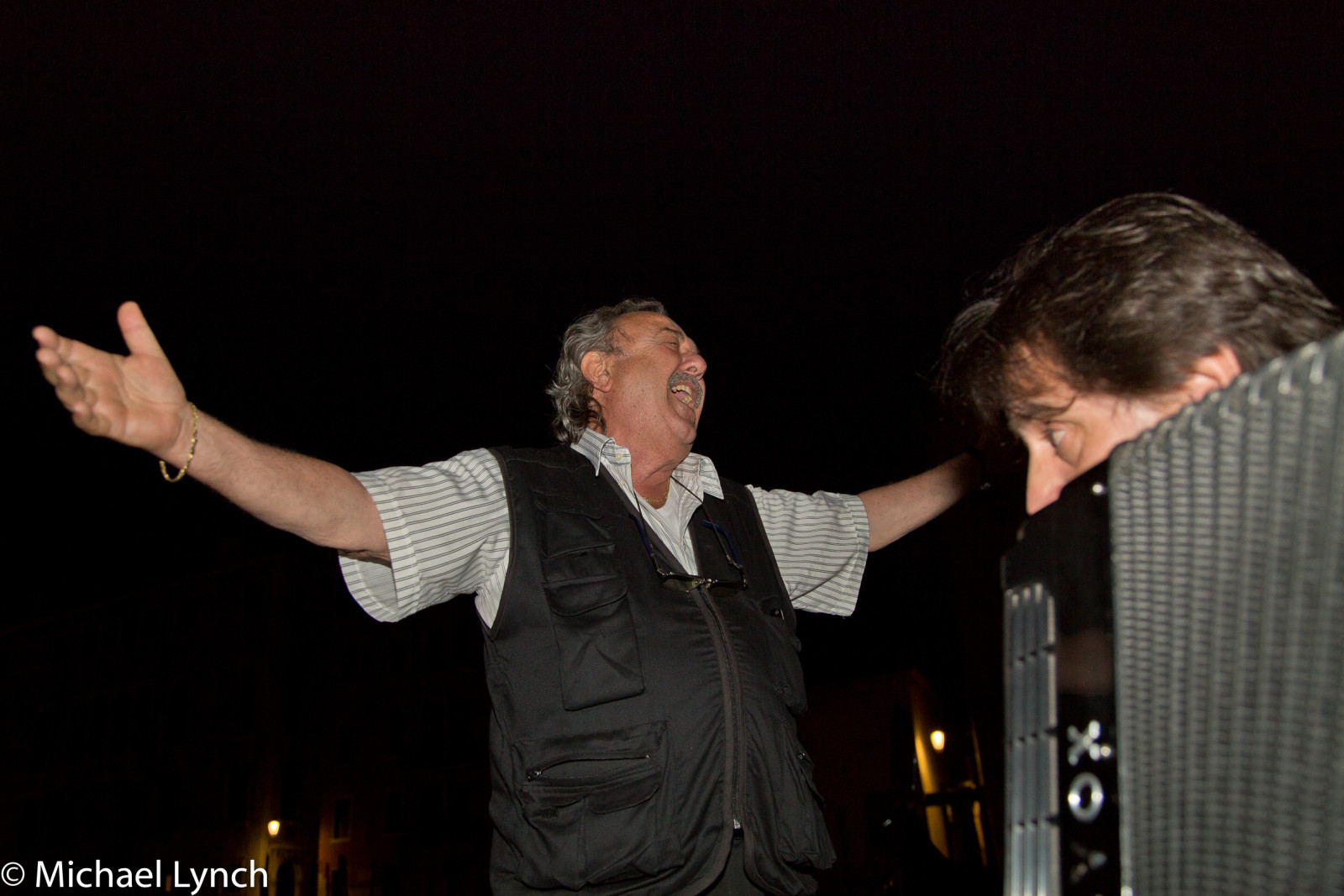 Dimitri suggested that we rise early and wander around Venezia before all the toursits arrive. As a result, we had most of San Marcos to ourselves. Piazza San Marcos was virtually emplty except for a few people cleaning up in preparation for the upcoming onslaught of tourists as the trains and cruise ships arrive.  We were even there before most of the pigeons. Phil, Sharon and I had a great time wandering around before breakfast. It was sublime.
Later, we met our local guide and learned more about Venezia. She was a local who enthusiastically gave us her perspective of Venezia today as well as in the past.  When she spoke, in Italian fashion, she used her whole body to enhance the message (see image titled Venice guide with tour group below). We learned about the history and how masks were made and then made our way to our scheduled tour of San Marcos Basillica and the Doges Palace.
Dimitri suggested we check out the early morning fish market the following day. Jane and I made our way over there the following morning and I wandered around taking several photographs. I made my way back and thought I was lost until I realized I was somehow in the square near Hotel Piave. Don't ask me how I got there.  The tours are organized with a great balance of scheduled and free time.  I loved walking around Venezia.  Each building has a story and you can really see the history in the patina on each building.
I suppose wandering around and stumbling upon the beauty of Venezia was the best part for me.  Then again, we did have some very magical moments on the gondola as well as listening to the orchestras playing in San Marcos.  Venice is magical, mystical and best seene before the tourists arrive or after they leave.
They say a picture paints a thousand words. That said, I will share the rest of Venezia in photographs.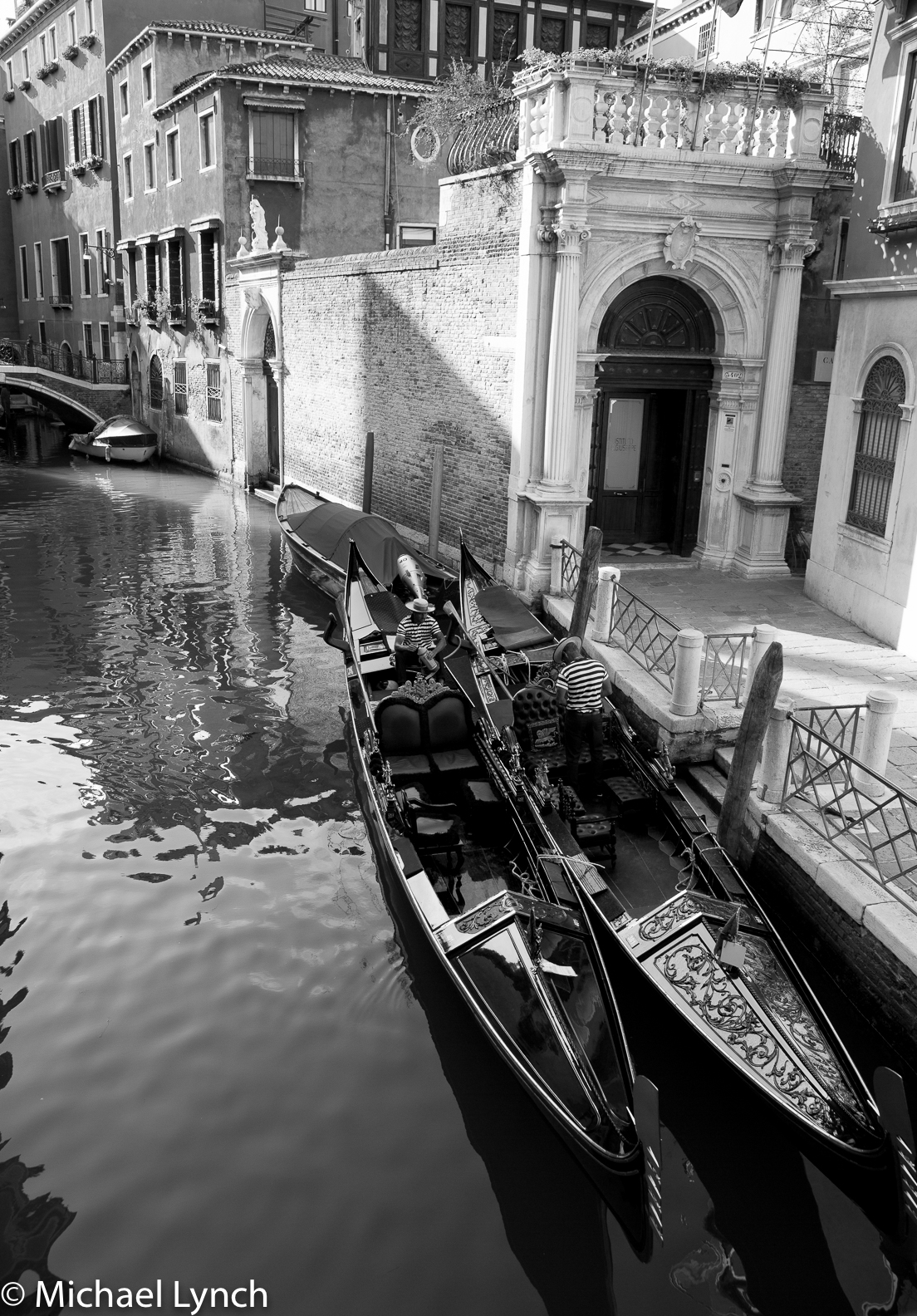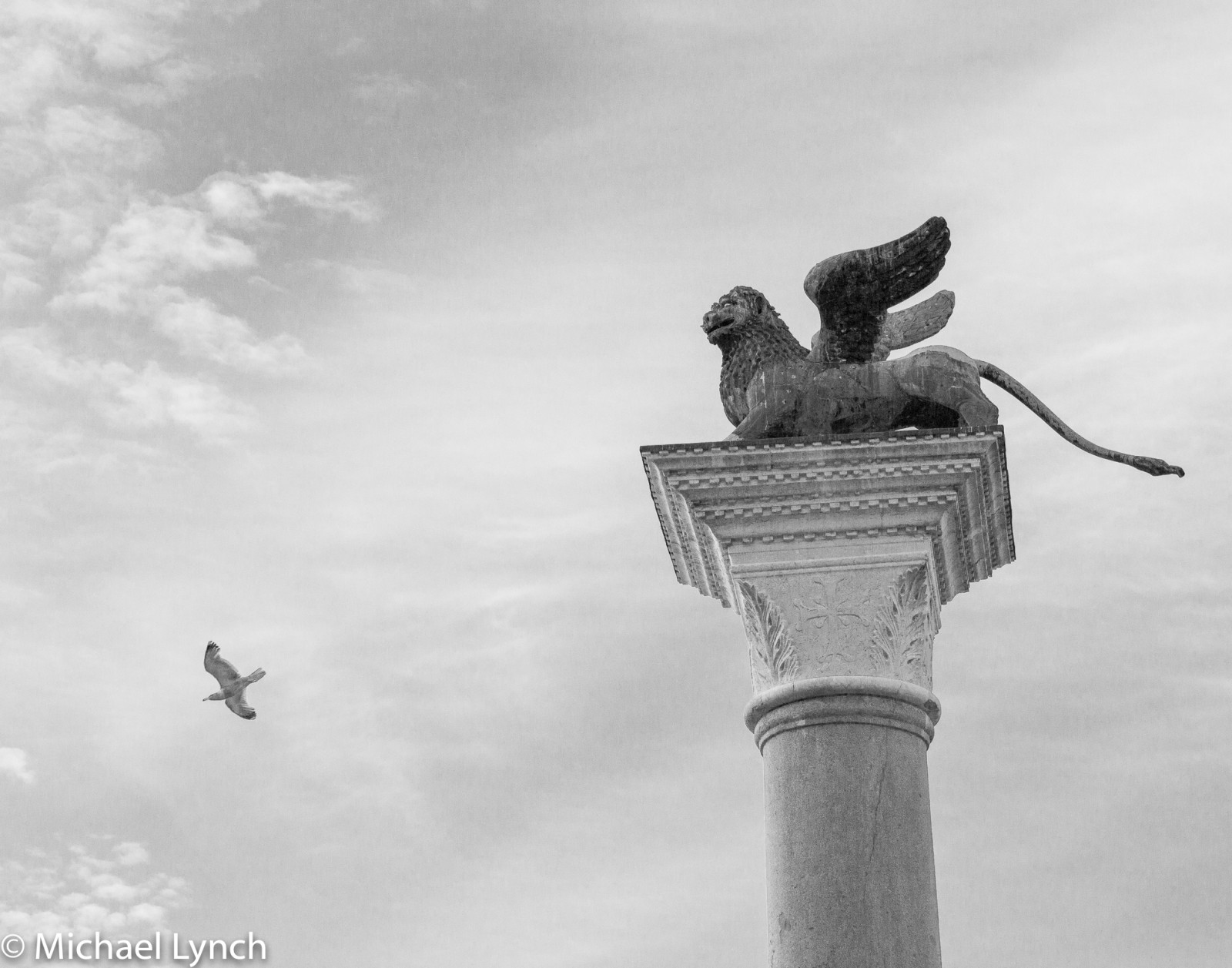 Click on the images to see a larger version.