The Tour Begins
Getting to Know You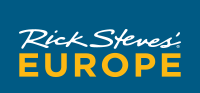 Due to the nature of Rick Steves' Tours, we had anticipated that we would be with like-minded people and right we were.  At 2:00 PM, as instructed, we all met in the lobby for the start of the tour and met our guide, Dimitri and the 21 other travelers with whom we would share the 3 weeks. Dimitri introduced himself as a Greek former RIck Steves' Tour bus driver who currently lives in Belgium.  Then Dimitri gave us a brief overview of the tour and what to expect.  Dimitri's enthusiastic and laid back approach to travel made for a good first impression.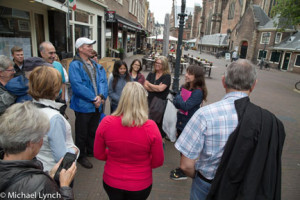 Then we started with somewhat awkward introductions but quickly we were more comfortable with the diverse group which included grandparents taking their recent high school graduates on a celebratory tour, a couple of families traveling together, a few other couples, and a few people traveling alone.  All in all, the ages from teens to sixties were represented.
After the introductions we were to select a buddy which had to be someone with whom we were not traveling with (I couldn't pick Veronica, Phil or Sharon). Then we were introduced to the "Buddy System."  The Buddy System would be used to ensure that everyone was present before we departed throughout our journey.  The strategy helps ensure that no one is left behind because say the four of us were buddies and were late for a meeting we could be left behind because all of us were gone and there would be no buddy to say we are not there. It worked like a charm.  I picked David, one of a family of four from just up the road in Ventura, California.  We were tasked with getting to know each other as we would be introducing our buddies later in the tour.
---
Walking Tour of Haarlem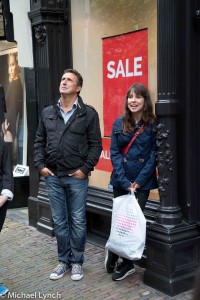 We took a break and were told to meet in front of the hotel at 4pm for our walking tour with a local guide.  One of the fantastic things about the tour was that in addition to Dimitri, we had local guides in most of the places we visited who offerred unique perspectives about each place.
Our first Buddy Check was successful and Dimitri introduced us to the cherub faced Yodi who took us on a walking tour of Haarlem. We learned about the churches, the local architecture, toured a Windmill, and had a lovely meal at an Indonesian Restaurant.  We had Rijsttafel which consisted of several different dishes of curried meats, rice, and vegetables served family style. Very interesting flavors.  The meal was delicious although it took me out of my culinary comfort zone; a harbinger of things to come.
Overall the tour was to be more of an education than a vacation. Dimitri and the local tour guides were educators versus your typical tour guide who seem more  interested in whisking you into shops where they receive a commission.  Our guides were local experts more interested in sharing their knowledge of the locale than profiting from souvenirs purchased.
We started the day as strangers but were quickly getting to know each other.  We walked back to the hotel and were instructed to be downstairs in the front of the hotel by 7:45 AM departure.  Thankfully, our loud partying friends from Saturday night seemed to stay home on Sunday and we had a restful night's sleep.
(Click on the images to view a larger version)