Amsterdam
Tolerance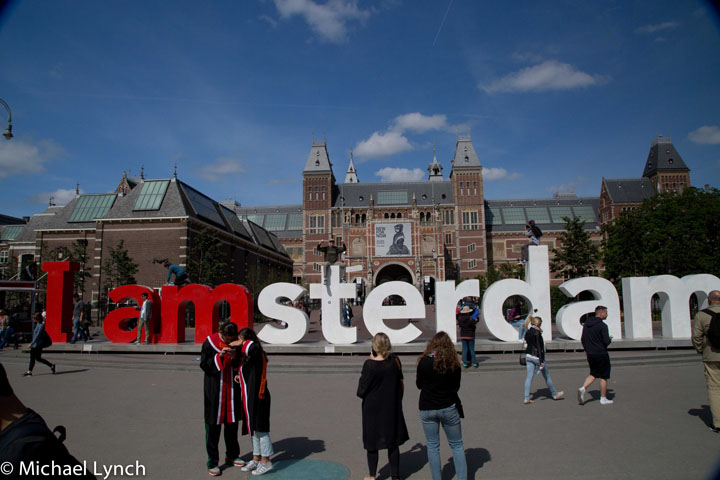 We enjoyed breakfast at the hotel and after a Buddy Check we walked to the train station for our tour of Amsterdam. Dimitri taught us that Amsterdam and the Netherlands have an interesting take on controversial subject matter such as prostitution, marijuana, and alternative lifestyles.  For centuries they have had a stance of tolerance on such subjects. As a result of the tolerance they also have a very low crime rate. Therefore, they have "coffee shops", the Red Light District, and a good mix of diversity. They tolerate different religions and lifestyles. For example, there is a Homo Monument near the Anne Frank House; our first stop in Amsterdam.
Outside the Anne Frank House, the queue was several blocks long for general admission. One of the many benefits of being on a tour is that you rarely have to wait in line as our arrival time was prearranged.  We somberly toured the Anne Frank House and were moved by her courageous yet tragic story. Having read the book when I was in grammar school it was especially moving to be in the house and see the exhibits.  I chose not to take pictures out of respect and to allow myself to have a more full experience by not worrying about taking the perfect shot.
We walked around Amsterdam dodging feits (bicycles) along the way.  The bicycle culture is phenomenal and we in the US have a lot to learn.  It was interesting to see women dressed in professional attire and high heels and parents with several children in baskets bicycling around the city.  After lunch we walked to the Rijksmuseum.
Veronica and I were still feeling a bit jet lagged. There was  some down time as we waited
for our guides and head sets to arrive.  Veronica nodded off for a few minutes as we waited.  However, the enthusiasm of our guide Thomas made it difficult to be sleepy.  Thomas was well dressed in a sharp suit and walked us through the museum with a great deal of energy.  As we went from room to room he was treated like a rock star by the museum staff as he quickly shook hands and said hello to most of them.  His enthusiasm for the art work was palpable.  He would take us from one room sized Dutch Master painting to another and explain what the image was about while including a short history lesson with each painting. It was fantastic.
After the museum we continued our walking tour visiting a cheese shop where we learned about and tasted several different types of cheeses.  It was a lovely and energizing break. Then we took a boat tour of the Amsterdam canals.  At the end of the tour we disembarked and continued through the Red Light District. Not as active in the late afternoon as it would be at night. Interesting nonetheless.  As the group headed to the train station we missed a light.  The group had assumed we went back to the sex shops (we did debate it for a few minutes but due to jet lag decided to wait until next time) but Phil and Sharon were surprised when we were at the hotel before they were.  Apparently we were on the same train but in different cars.  We regrouped at the hotel and had a relaxing and delicious dinner at a nearby Italian restaurant with Phil, Sharon, and our new friends from "Wiskawnsin," Mary and Fred. When we returned to the hotel the instructions said to be outside the hotel with luggage by 7:45 AM to get the bus to our next stop.